Annually in spring I go for regular walks to check-in on my tree neighbors and other annual plants.
I like to follow when the trees and bushes in particular enter budburst and the emergence of their new leaves.
So many of the newly emerging leaves are beautifully red—a process I once studied in oak trees—due to the mass synthesis of anthocyanins. I love to take a weekly walk to see what's changing rapidly during spring as some plants reemerge anew from the ground or new leaves emerge from deciduous plants and trees.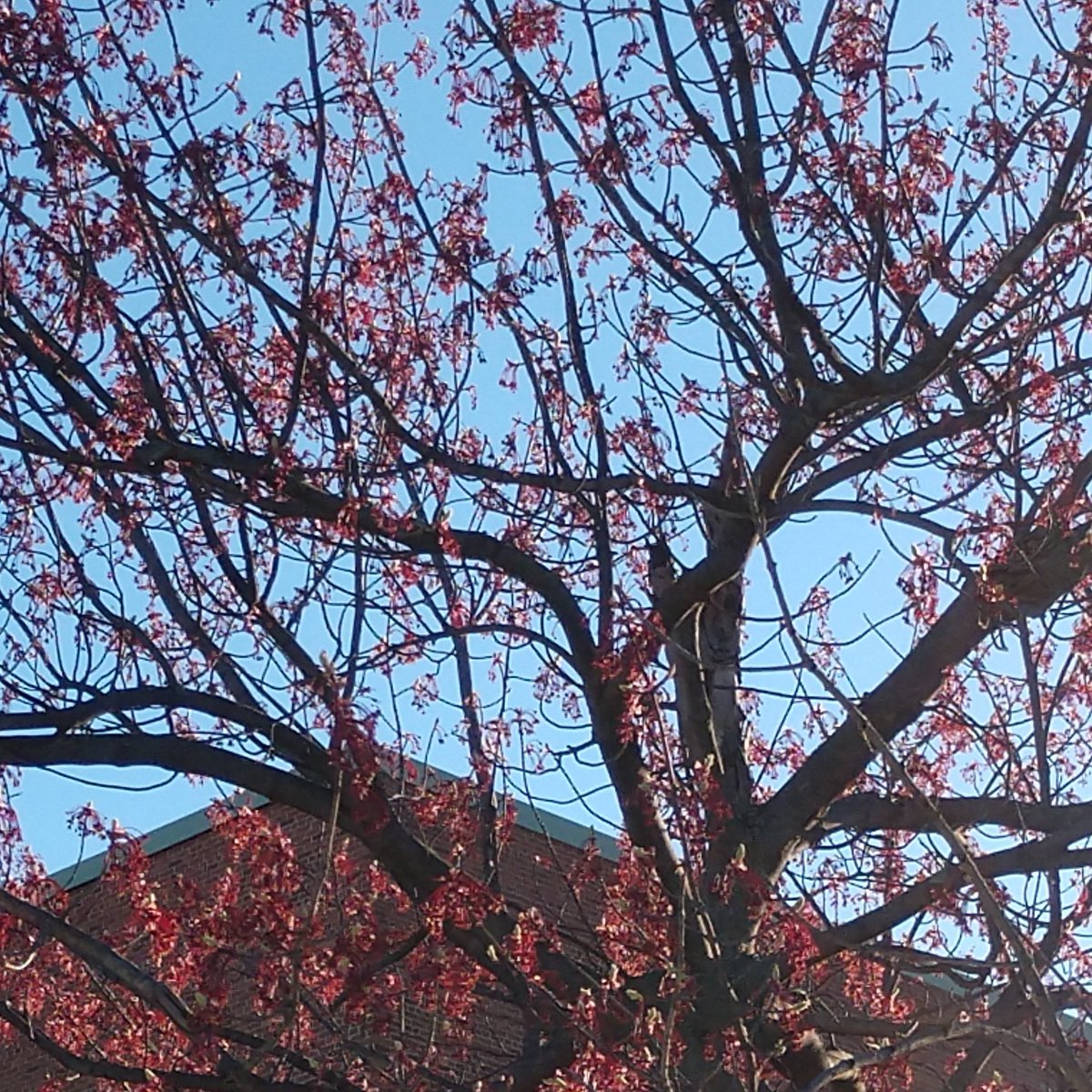 Today's walk was my first intentional exploration for spring 2020 and a welcome respite from my day working from home due to the COVID-19 pandemic.
It occurred to me as I walked and observed new plantings in neighbors' landscapes and the newest leaves on my familiar tree neighbors that this spring was in some ways exactly the same as all of my first spring walks of years past—and yet this year is like none before.
My walk was marked by nearly deserted streets. When a rare other neighbor was seen, we both took a wide berth to maintain social distancing even as we waved and smiled in passing.
The reduced traffic—foot and car—led to a quieter walk in which I was keenly aware of sounds, including the humming of electricity, the sound of tires of lone approaching cars on asphalt, the chirping of busy spring birds, and more. There was an absence of idle chats of passing neighbors and friends, a rare heard voice of a playing child. The silence was loudly jarring in ways.
Yet, the silence allowed me to look at even the regular afresh. I stood in awe of the same buds eager to release spring leaves—a process I watch each year, but in the absence of distractions I had a more laser focus and uninterrupted attention.
In our work domains, it feels that we are facing the opposite. We face a time that feels super congested with news of the spread of the coronavirus and skyrocketing numbers of confirmed cases of COVID-19 and associated tragic deaths. Our schedules are congested with trainings and what seems at times endless offerings of Zoom gatherings—whether classes, community gatherings, or business meetings. Parents are trying to balance working from home with running home school classes and managing their own and dependents' mental, physical and emotional needs.
These personal spaces too likely have moments that seem as if they've always been, but more likely your days are like mine full of moments that highlight the reality that we've never experienced anything like this before.
I'm challenging myself to reflect upon those things that feel most important moment to moment.
Today that meant braving my first walk of spring to reconnect with the plants that are emerging anew in whole or in part and drawing upon the lesson that they have rested over winter to prepare for this new spring.
I don't know what lessons we'll emerge from this crisis with, but one I truly hope that resonates for so many of us is how interconnected we are—even when we can't experience this connection physically.
Next week I'll take the same path I took this week to see what changes have emerged. Because of the reality of this moment in our global history, I don't know how I will have changed over this week, but I draw some peace from knowing that the plants will continue progressing into spring based on their purpose.
I must find the strength to do the same.
If you have comments on this post, as always find me on Twitter—@BerondaM.