As many of us stay "safe" at home in the face of a persistent COVID-19 pandemic, I'm intentionally reflecting on the meaning of meaning and how that "sits" relative to the daily decisions that need be made about how we spend our time.
We have to make these decisions daily, even when things are more "normal" than in a pandemic. Yet in specific times like these where we are staying safe at home with other responsibilities—childcare and homeschooling, eldercare or coordinating such care from a distance, care of pets, additional chores that are intensified with increased time at home, and lack of access to some self-care options such as visiting the gym or leisure time and energy for reading—the range of flexibility that we have in making choices can be diminished.
With many of these "at home" responsibilities being things that can't wait or be easily compartmentalized, options of "keeping up" with scholarly or professional demands can rapidly dissipate or the realities of what can be accomplished can be significantly less than anticipated. This is particularly true when also weighing the physical and mental costs for some of moving much of their work—teaching that has received much attention, but also other forms of work and meetings—to online platforms and formats.
While I consistently try to prioritize my own definition of success, impact, and what it means to have "meaning" in my work and purpose, changes in our environment are best met with a time of reflection about "meaning" in a particular time, space, and context.
The prevailing messages in many academic circles—and associated frameworks of support—are focused on the premise that we simply physically move our bodies from one work location to another and accordingly move our focus to our homes and the goal of keeping going. Across the nation, these messages of resilience are branded as keep "learning", keep "teaching", keep "researching" perspectives. Yet, the likelihood of these being spoken into reality is limited for many.
Many of us desperately need someone to "keep supporting" and "keep listening" to us explain what our true priorities must be in this time like none we have ever seen before. What is needed most in this time is grace and understanding.
Grace extended from each of us to ourselves, but also grace extended in what may be expected of us.
Also needed is understanding that each of us seeks peace and well-being in such moments in ways that resonate with our values, our own processes of making meaning, and through strategies that feed our motivations and sense of self.
What I am finding in this time is that something as BIG—as unprecedented—as this global pandemic is sending me on a search for and deep reflection about the "meaning" of "meaning". Whereas for me writing can be a panacea, a celebration, a mourning, a respite, and so much more, in these times I find myself thinking deeply about the meaning of my writing.
Because each moment can seem weightier than the last during a global pandemic of this magnitude, I find it hard to focus on writing about topics that are only measured in terms of whether I'm being "productive"—quantity of words produced, words for the sake of words but not linked to improving someone's possibility for advancing a "worthy" goal, words linked in some way to pursuit of status in an academy that may emerge from this crisis understanding its worth differently [or perhaps so I hope in regards to this latter point].
Yet, I know, as much as I know the seriousness of this current moment, that I process the world through words. Thus, writing will remain critically important to me in this moment.
So, as I reflect on meaning, I ask myself which topics can I engage, which words can I juxtapose, which phrases can I turn, that may bring meaning to the meaning of this time. I draw on all the sages, word-masters, and lyrical philosophers whom I can conjure to find a guidepost.
I know that I'll write through the crisis, but I'll follow the wisdom of Queen Mother Toni Morrison and I will be "writing for life".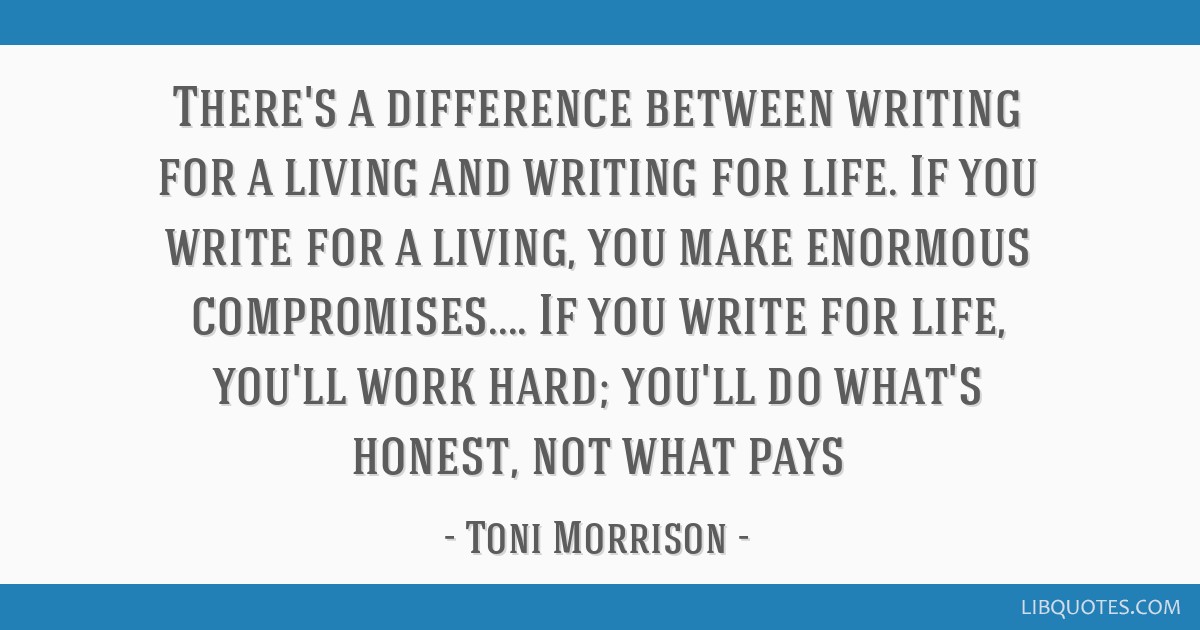 My writing in this time will not in the least be about productivity.
As writing is so frequently for me, it will be my way of processing the world, my way of finding meaning in the face of senselessness, my way of hoping that I can sit at the feet of whatever teacher I find in the universe and demonstrate my learning in writing.
Whatever things bring you a sense of meaning….Whatever things that help you find meaning in meaning…whatever things require your attention and care…may you pursue them fully and in all their glory.
May they bring meaning…and comfort…to you now and far beyond.
As always, if you have thought or feedback on this post, find me @BerondaM.